LOCAL TALENT AND BUSINESSES COLLABORATE FOR STARFRUIT PRODUCTIONS' SCREENING OF "THE COUCH"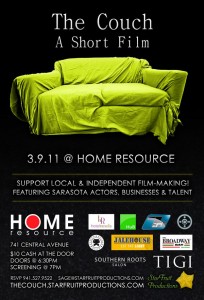 StarFruit Productions will be screening their new short film "The Couch" at Downtown Sarasota's Home Resource on March 9th at 6:30pm. Local filmmaker and StarFruit President, Sage Hall, directed "The Couch" and will be present for a Q&A following the screening along with actors and crew members. Its an outing that is sure to make you smile, cry, laugh, reflect and rejoice.
The Couch is centered around a woman Joy, who has lost her job at the prime of her career and is faced with the bland reality of the world she has created. When her cat pees on her couch and she discards it in the alley. She gains a deeper understanding of the world around her, living vicariously through the people that encounter the couch and the scenes that unfold.
The film features five female writers who collaborated to create a cohesive short film: Korryn Day, Debby Hall, Mary Brown, Sage Hall and a familiar Sarasota community name: Jenny Beres.   Beres won "The Play's the Thing" play writing competition two years in a row and her work has be featured around the country including NYC and LA.
Home Resource is the leading contemporary furniture showroom in Sarasota and Southwest Florida, showcasing their creative house solutions by day and entertaining the community by night. They have taken on a European concept of fringe theatre that performs in not-so-common locations, finding success and providing quality entertainment to the Sarasota area.
This Screen Actors Guild (SAG) production features many local acting talents including Emmy-nominee Kim Crow, Jamie Day, Jason Kimball, Chris Greene, Jesse Kozel, Thomas Noel Smith and Travis Weston Garner.
The composer of The Couch's soundtrack, Abornml Injustice, will be spinning original tunes before and after the screening. DJ Abnorml has performed with The Roots, at SXSW and Sundance Film Festival, his musical talent is an integral to the film's tone. Complimentary white wine will also be served and the film's star will be ready for photo opportunities.
StarFruit Productions is a local production company that recently showcased their film "Candy." at the Screen Actors Guild boardroom in NYC , which was selected from thousands of submissions.
Take a moment to glimpse the world around you. Join this team of local talents for a special screening of "The Couch" at Home Resource on Central Avenue in the Rosemary District. Doors open at 6:30pm, screening at 7:00pm. $10 cash at the door. RSVP your spot at 941.527.9522 or sage@starfruitproductions.com – this is a limited engagement! More information at http://thecouch.starfruitproductions.com.
Comments