If you're interested in staying up-to-date with all things related to "The Couch" short film, please go to the website and 'Like' the Facebook page now.
Official "The Couch" website
http://thecouch.starfruitproductions.com
on Facebook:
http://Facebook.com/thecouchfilm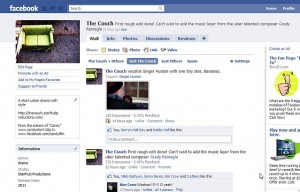 We are just days away from shooting the next short film from the collaborative minds working at StarFruit Productions!
"The Couch" is a joint effort between 5 female writers and brings together one amazing ensemble.  Telling the story of many lives in a city who all interact with one inanimate object, which so happens to completely influence it's former owner as she watches life pass by out her window.
We are fortunate enough to have a tremendously talented cast featuring: 2010 Emmy Nominee Kim Crow , Gene Costa, Jenny Beres,  Jamie Day,  Michael Ellison, Travis Weston Garner, Chris Greene, Sage Hall, Jason Kimball, Jesse Kozel, Thomas Noel Smith,  Justin Irwin, Rod Rawlings, Korryn Day and graffiti artist Enlo Enlone.
We have a wonderful location in Sarasota, Florida called HOTEL RANOLA.
It is a wonderful boutique hotel nestled right off Ringling Blvd in Downtown
and it is the perfect setting for The Couch.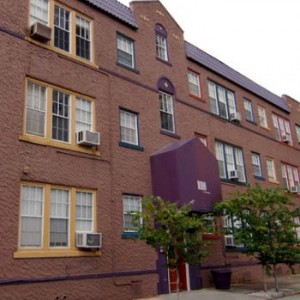 Director: Sage Hall
Producers: Sage Hall & Jesse Kozel
Writers: Jenny Beres, Mary Brown, Debby Hall, Korryn Day & Sage Hall
Cinematographer: Wheat
And many other talented crew members!
Expect more updates as they become available. But trust that this little drama is going to be thought provoking, gritty and beautiful.
Constant updates available on "The Couch" Facebook page.
This past weekend "Candy." screened for an packed house at the Hallowscreen Film Festival in Sarasota, FL which is part of the Chalk Festival.
The audience loved it and many of them stopped myself or Sage to talk about what they saw when the film was over.
I'm still so surprised by the wonderful response and I just love the fact that in a little over 8 minutes, we can make them gasp, laugh & want more!  I am so happy with everything that has occurred thus far with "Candy." and I can not wait to develop the project further & take it to new levels.
Thank you all for coming out and supporting us and thank you to Lori Bowen, the director of the Hallowscreen Film Festival, for everything she has done to help promote our short film.  We appreciate you Lori!
If you haven't seen "Candy." yet, check it out HERE.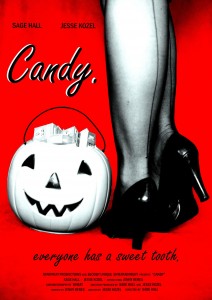 Because we love Halloween so much and it's truly the reason why Candy. exists at all, we've decided to give the world a treat for this beloved holiday.
I invite you to sit back, relax and watch Candy.
I was giving a panel discussion at 2pm on Saturday and though most of the filmmakers that I had asked to do it could not make the event, Tim Anderson (producer "2:22", writer Bloody-Disgusting) did step in and help out to moderate the panel.
The group of amateur filmmakers had terrific questions for us.  Many of which were looking at the all encompassing question of "How do I find money?"
Tim answered it best by saying "If you aren't willing to put any of your own money into the film, then why would anyone else donate to help you?"  It's completely true.
I have to say, there is no way you'll ever get your film made if you're not willing to anti-up the cash to get it started.  Start saving now for your film!  RIGHT THIS MINUTE.  There is no way that you'll be able to get anything done if you don't make a film fund!
People were very concerned about the camera to use, which is wise, but I kept stressing to them PRE-PRODUCTION and for the love of god, have a good story and quality talent on hand to make your film happen.
Through everything that I've learned, above all things, you must be willing to take the time to develop and work a story and script to a point that it is going to be easy to shoot.
Guess what kids?  If you only have a Flip Cam and you want to shoot an action sequence with your brothers Camaro spinning in circles on your residential street, chances are you will be shut down!
Try and tailor your script to fit what you know you can afford.  That includes permits!  If you can't afford permits, then try and shoot in a location that is owned by someone you know or you own it yourself.  Your House, Grandmothers house, Friends Business.  But don't just roll up to Wal-Mart and start filming in the parking lot.  They won't appreciate it and I bet, if you've taken the time to find the right Cinematographer or DP, they're not going to enjoy guerrilla shooting in the parking-lot either.
We talked about what kind of cameras to shoot on and of course I go right for the Cannon 5d, which you can rent for a few weeks for about a grand or buy for about $2,800.  May seem out of your range, but that camera will pay you back, believe me.  We shot "Candy." on the 5d and thank god Sage had it, because it's frigging amazing!
But truthfully, you can shoot a film on any kind of HD camera you might have if you're just testing your skills.  Just get out there and shoot stuff to get practice.  Don't assume that YOU can do everything during a film shoot because you can't.
Thanks to everyone who came out and sat through our panel.  I hope we did give you some information you didn't already know or some that you wanted to hear again!
I look forward to seeing what you all create!!!!!